[ad_1]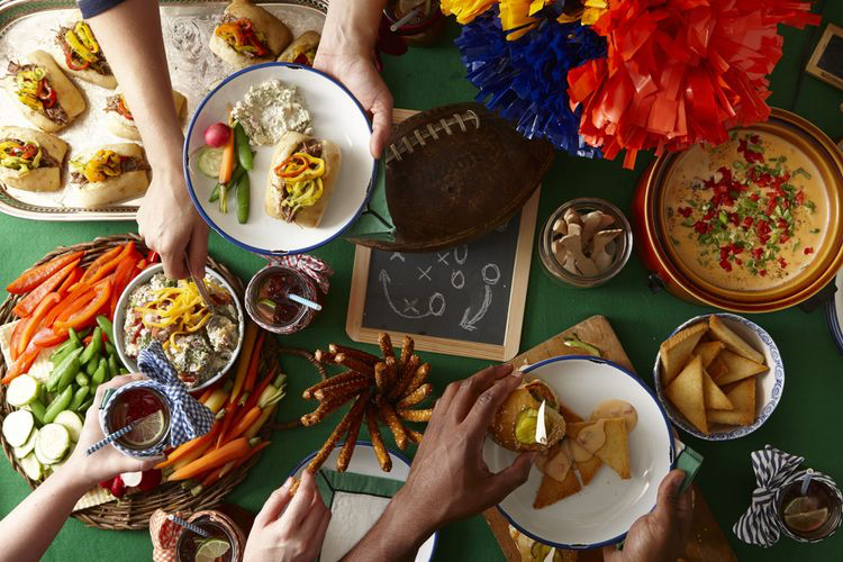 Let's admit it. Fall football season at the lake—or anywhere—is all about the food. Fans look forward to the tailgate fare almost as much as the game. Along with the return of our favorite fall sport, we celebrate the season with friends, family, and finger foods. To inspire your next lakeside tailgate spread, we've compiled a short list of crowd-pleasing finger foods that are sure to score some points with your guests. Welcome autumn's arrival—and get your game on.
Hot & Hearty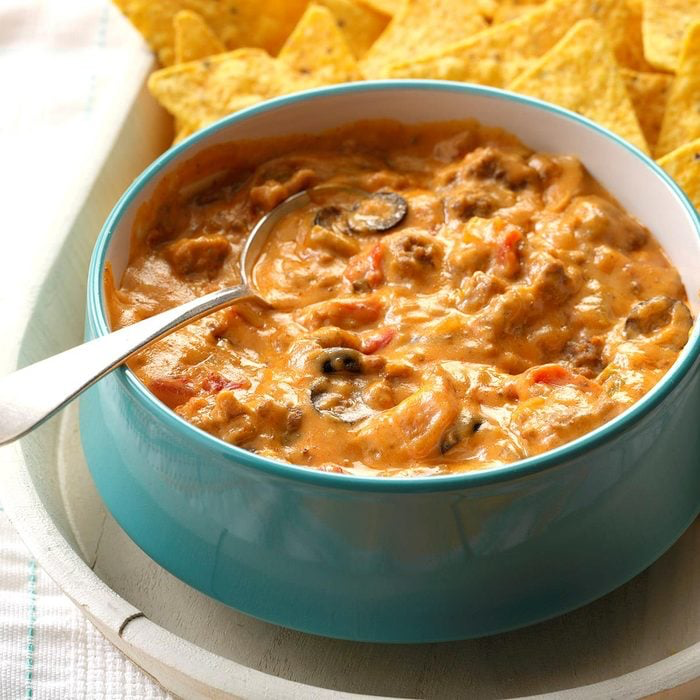 Tortilla chips—a tailgate staple—are the only utensils required for this hearty Cheesy Beef Taco Dip. This warming fall favorite never fails to deliver rave reviews from all your guests. Plus, it's a cinch to whip up in just 20 minutes. Simple ingredients, including ground beef, chopped onions, green pepper, and two kinds of cheese, come together in a savory mix. The pepper jack cheese gives it a little kick, along with diced tomatoes, green chiles, black olives, mushrooms, and taco sauce. To bring on the heat, opt for extra-hot taco sauce. For the full recipe, visit Taste of Home.
Melty Goodness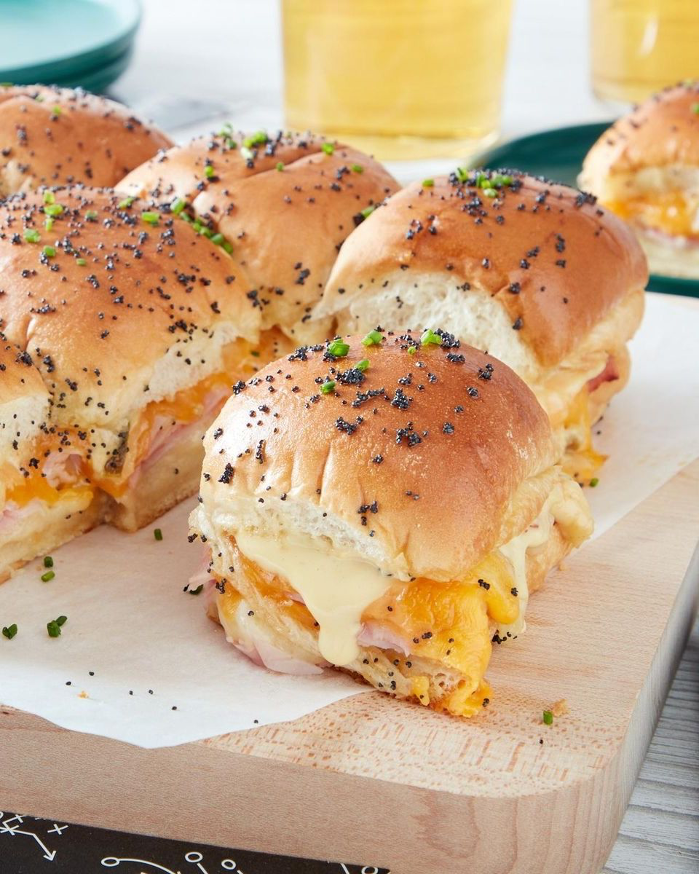 Your tailgate crowd won't be able to resist pulling apart these warm and melty Ham and Cheese Sliders. These little glossy gems are baked as a sheet of rolls, so they're super-easy to transport and tear apart. Look for attached square mini rolls like Potato or sweet Hawaiian rolls and avoid hard-crusted options that can get too crispy when baked. Spread pre-broiled rolls with a mixture of mayo, mustard, jalapenos, and honey and layer with ham and Swiss cheese. This recipe also brings cheddar cheese to the party, making this fan favorite a true game-changer. For tips, instructions, and the full recipe, visit The Pioneer Woman. For another variation, check out Southern Living's take on this Deep South staple.
The Tailgate Classic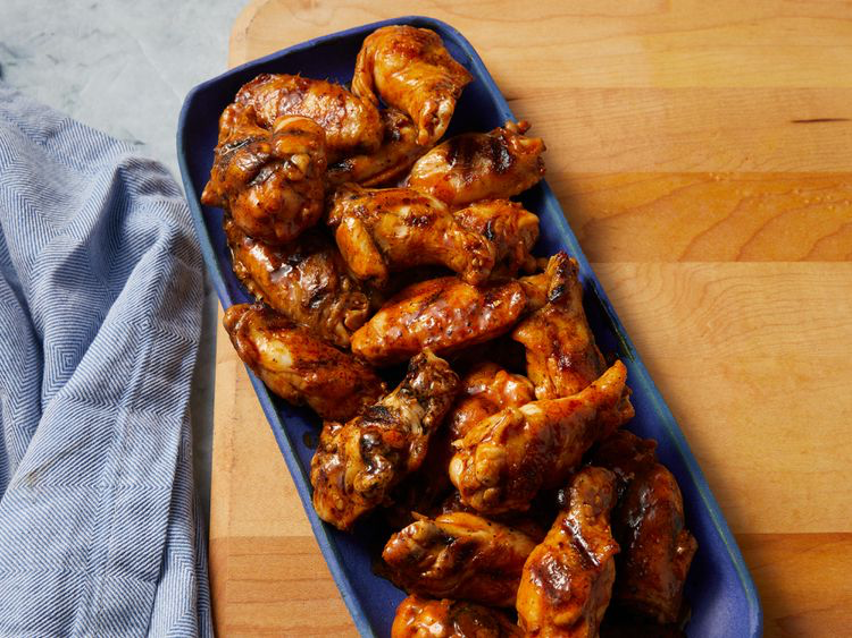 It's the rule. You can't have a tailgate party without grilled chicken wings. These savory Grill Master Chicken Wings are surprisingly simple to prepare and amazingly delicious. This one calls for Frank's RedHot sauce, which delivers a zesty flavor without being too spicy. In a resealable plastic bag, marinate your wings in a mixture of soy sauce and Italian-style dressing for at least 4 hours or overnight. Grill on medium-high heat for 25 to 30 minutes until an instant-read thermometer inserted near the bone reads 165 degrees F. When wings are fully cooked, transfer to a bowl and drench with a melted butter mixture made with hot pepper sauce and soy sauce. Toss until all the chicken is well-coated, serve, and enjoy. For the recipe, visit Allrecipes.
Cold & Crunchy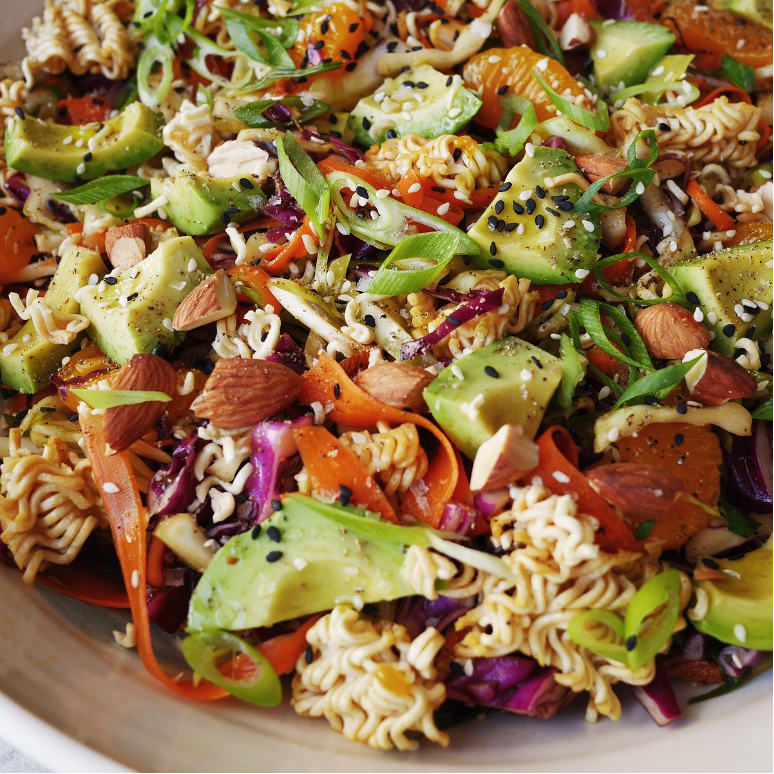 If you serve this Ramen Noodle Salad in cups, it almost constitutes a finger food, right? A savory and citrusy cold dish, this creative salad offers a healthy option that pairs deliciously with other game-day fare. Toasted ramen noodles and almonds are the secret ingredients that give this salad an incredibly flavorful crunch. Mix red and green cabbage with green onions, shaved carrots, and sesame seeds. Toss with a dressing made with olive oil, rice vinegar, sesame oil, soy sauce, and honey, seasoned with salt and pepper. Before serving, fold in Mandarin oranges, diced avocado, and the toasted noodles and almonds. Sprinkle with sesame seeds for an extra flavor kick. Visit Delish for the recipe.
Sugar Rush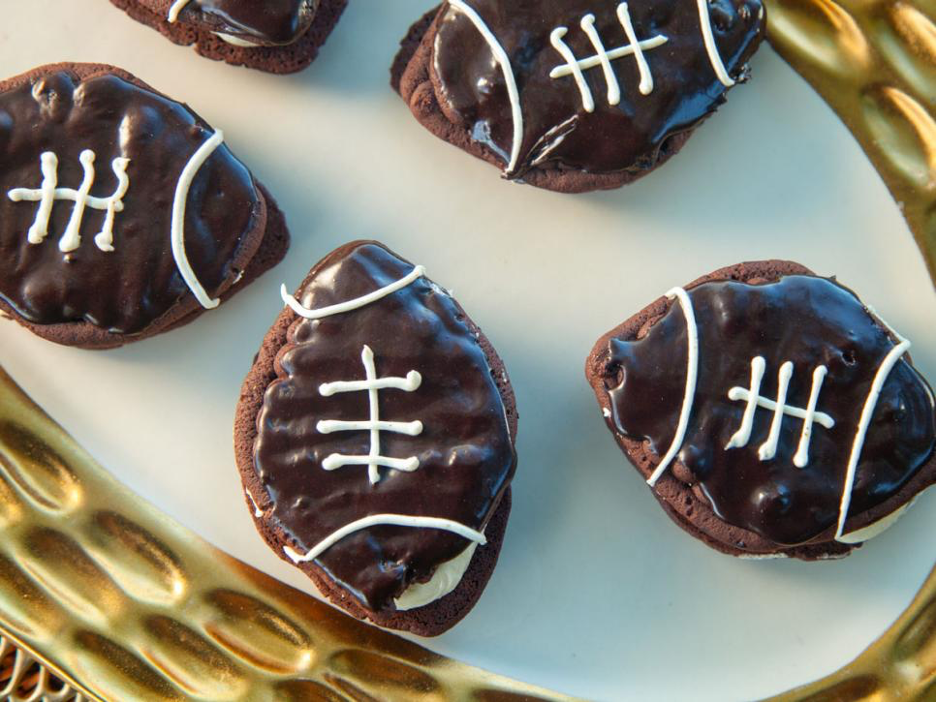 Bring some sweet game-day fun to the party with these over-the-top Chocolate Cayenne Football Whoopie Pies. This decadent recipe requires some extra TLC, but in the end, it's well worth the effort. The combination of cayenne pepper paired with dark chocolate delivers a fantastic flavor twist like no other. Be sure to use a high-quality cocoa powder for your whoopie pies and glaze. The filling is made with butter, cream cheese, confectioners' sugar, garam masala, and vanilla paste. You'll also need a 3-inch plain-edge football cookie cutter, parchment paper, piping bags, and plenty of patience. For this innovative recipe, visit Food Network.
A Better Bloody Mary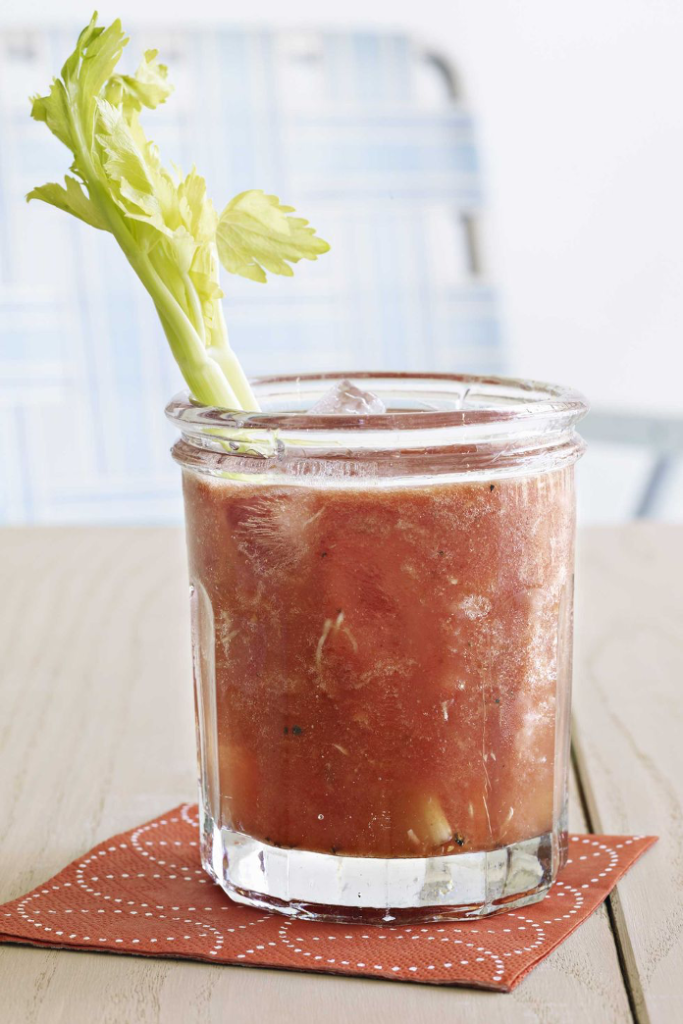 Technically not a finger food, the mighty Bloody Mary is, nevertheless, a tailgate essential. This lake-inspired classic cocktail is not your garden-variety Bloody Mary. It's actually fresh from the garden, using ripe beefsteak tomatoes and fresh lemon juice. A signature libation from Mark Levy, former executive chef at the Point Resort in Saranac Lake, New York, this flavorful tailgate fav features a pureed mix of tasty goodness you can prepare in a food processor.
Blend tomatoes until liquefied, and strain through a fine sieve into a large pitcher. Discard the pulp and stir in seafood cocktail sauce, Worcestershire sauce, lemon juice, grated horseradish, Tabasco, salt, pepper, and celery salt. Fill glasses with ice, add vodka, and pour the mix into each glass. Garnish with celery stalks or your preferred Bloody Mary embellishment. For the full recipe, visit Country Living. For more tasty tailgating recipes, see Southern Living's top 50.
Cheers to a delicious lakeside tailgate—and another winning season on the lake. Go team!
[ad_2]

Source link